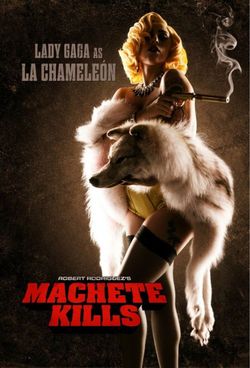 Earlier this summer, Andy began chronicling the growing animosity between PETA and Lady Gaga, after the songstress appeared in a b-movie promo poster dressed in what looked like a wolf carcass. At the time, PETA vice president Dan Matthews warned Gaga: "… you're making yourself a target just like the mindless Kim Kardashian." (Kardashian had recently been flour-bombed by a PETA activist.)
Gaga, it appears, doesn't much care: She was spotted and photographed wandering around Cologne this week wearing what looked like the carcass of an arctic fox.
Though I cannot find the post, ABCNews notes that Gaga has posted this message to her website:
I am choosing not to comment on whether or
not the furs I purchase are faux fur-pile or real because I would think
it hypercritical not to acknowledge the python, ostrich, cow hide,
leather, lamb, alligator, 'Kermit' and not to mention meat, that I have
already worn.

You see a carcass, I see a museum pièce de résistance.
Gaga proceeded to condemn PETA's "violent, abusive, and childish" brand of activism.
In 2009, Lady Gaga appeared on Ellen and described and condemned the wearing of fur:
Ellen
DeGeneres quickly turned the conversation to fashion with Lady Gaga
running down a list of her costume and hat designers … One costume that has been
dubbed the Kermit The Frog outfit was made by designer Jean de
Castelbajac, and looks like a bunch of Kermit The Frog puppets glued
together to make a top. Lady Gaga told Ellen DeGeneres, "I really loved
that one in particular because I thought it was a commentary on not
wearing fur, 'cause I hate fur and I don't wear fur.