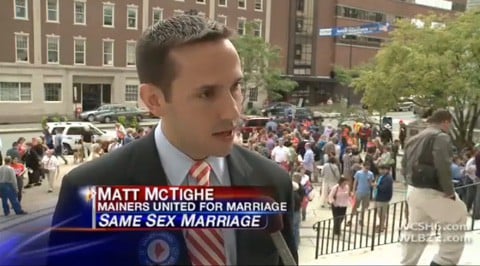 With just eight weeks to go before the election, Maine supporters of marriage equality are gearing up for a ballot measure that would bring it to their state, and rallied in Portland yesterday. Hundreds turned out, WCSH reports:
The goal was to fire up supporters and shine some attention on the issue. While supporters say things are looking good for their cause right now they know their opponents have not yet taken their best shot at convincing voters to say no on one. On hand to support the effort were Portland's Mayor, a couple of city councilors, members of the clergy, and a same sex couple from Freeport that's been together for 18-years.
Watch their report which includes an interview with Mainers United for Marriage chief Matt McTighe, AFTER THE JUMP…
And visit Mainers United for Marriage online HERE.