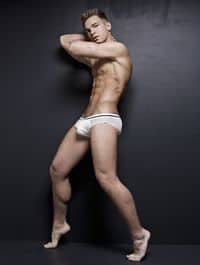 As reported in August, Calvin Klein's former boytoy Nick Gruber, who had a run-in with the law in April and subsequently entered a Klein-financed rehab session, is writing a book about his relationship with the fashion designer. He plans to accompany that with a reality show, Page Six reports:
"The show is basically about me being in a relationship with Calvin," Gruber, who's also penning a tell-all book, told us at the Sherri Hill show at Trump Tower Friday. "It's also me trying to figure out who I am as a process of coming from his lifestyle from New York to LA [where he now lives], at the same time being the straight boy and still [liking] men and women." So is Gruber, currently dating John Luciano, straight? "I don't believe in labels," he said, adding that his new beau allows him to see women.
Filming begins in January.