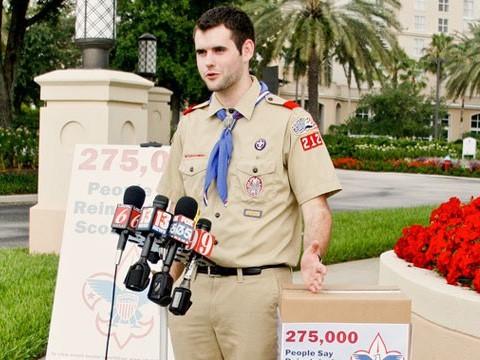 Yesterday, Andrew reported on a campaign led by Eagle Scout Zach Wahls calling on Intel to end its funding of the Boy Scouts of America after it was discovered that the corporation had given the BSA nearly $700,000 in 2010.
The funding was in conflict with Intel Foundation's policies,  which stipulates that Intel will not fund "Organizations that discriminate on the basis of race, color, national origin, gender, sexual orientation, veteran or disability status."
Today, after more than 30,000 people signed a petition started by Wahls, Intel announced that it would no longer be giving money to the BSA until it dropped its anti-gay policies.
Intel's Chief Diversity Officer, Rosalind Hudnell told Think Progress that the company had adjusted its policies:
Due to significant growth in the number of organizations funded, earlier this year we revisited our policies associated with the program, and applied new rigor that requires any organization to confirm that it adheres to Intel's anti-discrimination policy in order to receive funding.
Intel is committed to fostering a culture of inclusion and to supporting the communities in which we live and work.
Said GLAAD President Herndon Graddick in a statement:
"Intel joins current Boy Scouts of America Board Members, President Obama, Mitt Romney and hundreds of thousands of Americans in speaking out against the BSA's practice of unfairly kicking out gay scouts and scout leaders simply because of who they are. All of the great work that the BSA does to help young people will continue to be overshadowed by their blatant discrimination until they join other inclusive national organizations like the Girl Scouts of the USA and the 4-H Club. The time is now for the BSA to side with fairness, otherwise they will continue to see sponsors and scouting families drop their support."