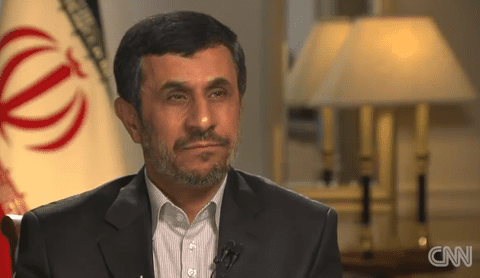 In the United States for the UN General Assembly, crazed Iranian President Mahmoud Ahmadinejad sat down with CNN's Piers Morgan. Morgan, perhaps forgetting that Ahmadinejad is a vitriolic, tenacious and willfully unreasonable homophobe, asked the Iranian president whether a man such as himself has a responsibility to extend rights to gay people.
Ahmadinejad, who looks like he's been visiting Vladimir Putin's plastic surgeon, says no, only he says it with right-wing platitudes: "Do you believe anyone has given birth through homosexuality? Homosexuality ceases procreation. Who has said that if you like or you believe in doing something ugly and others do not accept your behavior, they're denying your freedom. Who says that?" He then equates same-sex love with thieving.
Morgan also asks Ahmadinejad what he would do if one of his children came out. Ahmadinejad avoids answering the direct question, choosing instead to claim that homosexuality can be eradicated through education reform. "The proper education must be given; the education system must be revamped; the political system must be revamped," he said. "But if you, if a group recognizes an ugly behavior or ugly deed as legitimate, you must not expect other countries or other groups to give it the same recognition."
Watch Morgan and Ahmadinejad's exchange AFTER THE JUMP.