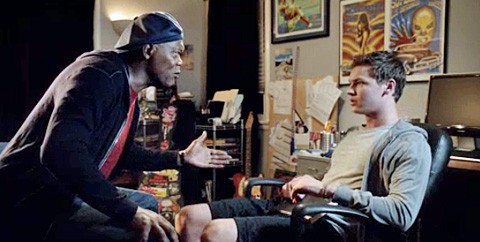 Sorry, my friend, but there's no time to snore.
And out-of-touch millionaires just declared war.
On schools, the environment, unions, fair pay.
We're all on our own if Romney has his way.
And he's against safety nets, if you fall, tough luck.
So I strongly suggest that you wake the f**k up.
Many of you know Adam Mansbach's childen's book Go the F**k to Sleep. Samuel L. Jackson uses that as his inspiration for a new video and campaign called "Wake the F**k Up" in which Jackson recites a nursery-rhyme-esque poem warning about what Mitt Romney will do if he becomes President.
The Jewish Council for Education & Research (JCER), a liberal super-PAC, is behind the ad.
Mother Jones writes:
The entire thing—it should go without saying—was done for the activist lulz. The new ad was scripted by Mansbach himself, and the Manhattan-based JCER is the same outfit that funded July's viral clip featuring off-color comedienne Sarah Silverman offering to "scissor" GOP megadonor Sheldon Adelson for the sake of democracy.
Mik Moore, who runs JCER, tells Mother Jones that the group will be rolling more comedic and satirical content as Election Day approaches—in additon to running print ads in swing states, promoting Obama's record on Israel, and "creating mini-memes on social media."
Watch, AFTER THE JUMP…