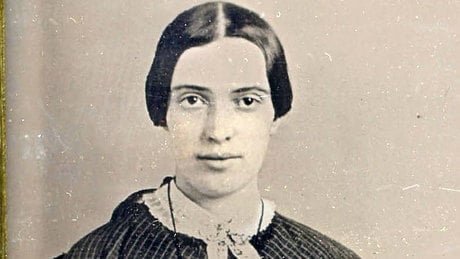 Is this a picture of Emily Dickinson?

After the Labor Day weekend beating of a gay man at the hands of four marines, at least a few gay military men suspect the offenders' animus was inflamed by politics:
"The Republican Party platform
that was released just before this (alleged) attack says gays don't
belong in the military," says the Special Ops soldier, who asked not to
be named (he says most of the men in his unit know he's gay, but he
hasn't come out publicly). "Mitt Romney hasn't gone as far as to say he
would reverse the DADT repeal, but I think people know how he really
feels about gay people. And I can see how these Marines can look at what
Republican leaders are saying as justification for what they did.
People they probably support politically are telling them that gays and
lesbians don't belong, that they are un-American."

You've seen that ridiculously cheesy TV ad in which a middle-class couple worry about Obama "forcing" gay marriage on 'em? Think Progress knows who's behind it.

Oh, Jesus:
After leading a reciting of the Pledge of Allegiance in the middle of
his remarks, Romney began talking about God. "That pledge says 'under
God.' I will not take God out of our platform. I will not take God off
our coins. And I will not take God out of my heart," Romney said to
roaring applause from the audience.

FOX News "fires back" at REM, after the complained about FOX's use of "Losing My Religion":
"FOX News Channel's use of an R.E.M. song during Thursday's edition of
'Fox & Friends' was in full accordance with its license agreements
with all appropriate parties," a Fox News representative said.
"Nevertheless, we're always flattered to have this much attention for a
song selection and we hope R.E.M. was able to satisfy their publicity
fix."

Gay couple Syed Massood and Christian Clarke to be written out of the British soap EastEnders:
Actor John Patridge, who is openly gay in real life, said: "I have
had the time of my life at EastEnders – but I have always gone with my
gut, and leaving at the same time as Marc felt like the only thing to
do.

"It is the right end to the story and for Christian. But also, excitingly, the start of a whole new chapter for me."

Show bosses have remained tight-lipped about how the couple will leave the square.

9/11 museum years behind schedule:
A dispute between Mayor Michael R. Bloomberg and Gov. Andrew M. Cuomo
over the $1 billion museum at ground zero has dragged on for so long
that the museum will not open in time for the 11th anniversary of the
Sept. 11 attacks — or even for the next one.

… With work on the museum at a standstill for nearly a year, fund-raising and donations have fallen, and exhibits are gathering dust in fabrication shops in Buffalo and Santa Fe, N.M., according to museum executives.

Why Brett Easton Ellis can't stand even the corpse of David Foster Wallace.

A spider under an electron microscope.

This week, Voyager 1 entered the 36th year of its cosmic journey. Incredible.