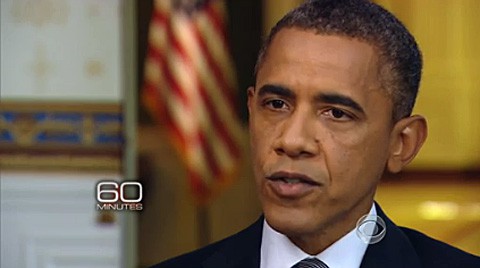 60 Minutes Steve Kroft asked President Obama about Mitt Romney's remarks on Libya.
Said Obama: "There's a broader lesson to be learned here. Governor Romney seems to have a tendency to shoot first and aim later and as president one of the things I've learned is you can't do that."
Watch, AFTER THE JUMP…
The Washington Post, in an editorial today, called Romney's remarks a "discredit to his campaign," explaining:
Mr. Romney's first rhetorical assault came Tuesday night in response to a statement by the U.S. Embassy in Cairo, which was also besieged by demonstrators Tuesday. His statement claimed that the administration's first response was "to sympathize with those who waged the attacks." In fact the embassy statement was issued before the protests began; referring to an ugly anti-Islam film that was the focus of demonstrators, it condemned "those who abuse the universal right of free speech to hurt the religious belief of others."
Mr. Romney did not then know the extent of the Benghazi incident — his statement referred only to "the death of an American consulate worker." So it was stunning to see the GOP nominee renew his verbal offensive Wednesday morning, when the country was still absorbing the news of the first death in service of a U.S. ambassador since 1988, as well as the loss of three other Americans.