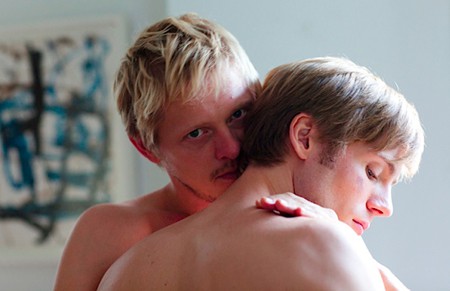 Oh, Shia… Man up! You've disappointed Tom Hardy again.
NOW PLAYING
The big news in theaters this weekend is the return of the great Paul Thomas Anderson (Boogie Nights, There Will Be Blood) with THE MASTER, the first of the big ticket Oscar-seeking films to emerge for fall… more on Oscar buzz in a minute. First, let's take a step backward since I missed a week.
Madonna's tour is now in full swing so it seemed only fitting that one might loosely categorize an entertaining quartet of new indie releases as a "Girls Gone Wild" blowout: the romantic dramedy HELLO, I MUST BE GOING features the luminous Melanie Lynskey (Heavenly Creatures, Away We Go) as a divorcee in a tail spin who beds a younger man (Christopher Abbott, who comes with a gayish subplot); Leslye Headland's pitch-black comedy BACHELORETTE stars Kirsten Dunst, Lizzy Caplan and Isla Fisher as three very Mean Girls utterly shaken by the realization that their fatter friend Rebel Wilson is actually happy and the first to get married; Canadian filmmaker Jamie Travis, who made his name on unmissable short films (The Patterns Trilogy, The Saddest Boy in the World, etcetera) makes his feature debut with the slight but funny FOR A GOOD TIME, CALL… with the always delightful Ari Graynor as a phone sex operator, Lauren Miller as her initially prim roommate and Justin Long as their gay BFF); and, finally, KEEP THE LIGHTS ON stars Danish actor Thure Lindhardt and Damage's Zachary Booth as gay lovers beset by drug and sex addictions over their long dysfunctional relationship. I'm slightly mystified by the reaction to this one — we're talking unqualified raves — since its intermittently potent scenes feel super repetitive and unshaped for the audience (in short, it feels like an essential exorcism for filmmaker Ira Sachs but a tough sit for anyone hoping for their own catharsis).
All of those films are still in theaters so check them out if you're curious. A couple of those movies might well hope for some awards play at the Independent Spirit Awards but we're already drowning in bigger ticket Oscar buzz.
Let's start with Garret Hedlund in ON THE ROAD (opening Dec. 21st)…
A wee handful of Oscar contenders AFTER THE JUMP…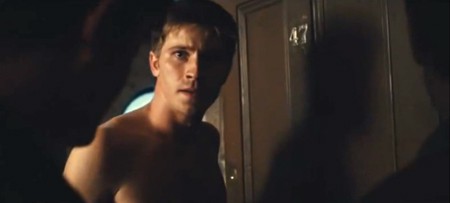 History tells me that Hedlund's potentially star-making sexually charged performance will have trouble finding solid ground with AMPAS voters. "Dean" beds so many people in the film, men and women, that his sexual appetites are both thrilling and unsettling. His sexual journey starts to feel like its own alternate On the Road odyssey — unwilling to slow down and unable to feel at home at home, no matter which marriage (Kristen Stewart or Kirsten Dunst) or romanticized friendship (Sam Riley and Tom Sturridge) is offering him one.  Future Oscar traction or no, it's a major step forward in a career heretofore known for far less compelling performances like the naive Mormon who Lindsay Lohan blows in Georgia Rule or the arrogant heir to a computer world in Tron: Legacy. 
Joaquin Phoenix & Philip Seymour Hoffman in THE MASTER (Sept. 14)
It's been an astounding 28 years since the last double dip in the Best Actor category (1984's Amadeus). It's not that there haven't been two-lead films but that the studios have long since perfected fraudulently campaigning. One of my proudest psychic Oscar pundit moments was declaring, a year before its release, that whoever was the bottom in Brokeback Mountain would go supporting and I was right. Will Oscar finally reject category fraud and vote for a double lead again?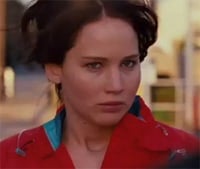 Everyone in SILVER LININGS PLAYBOOK (Nov. 21) and ARGO (Oct. 12)
The year's biggest Oscar story out of the fall festival circuit is that Ben Affleck's third directorial effort ARGO and David O. Russell's SILVER LININGS PLAYBOOK are both major quality crowdpleasers and therefore bonafide Best Picture threats. It's still early but it's unwise to vote against Jennifer "Katniss" Lawrence (Silver Linings) in Best Actress. Word is she gets mid-film applause and when you get mid flim applause you might take home a statue.
Naomi Watts & Ewan McGregor in THE IMPOSSIBLE (Dec. 21)
The acclaimed stars play a married couple ripped apart by violent waves in this true story set during the 2004 tsunami disaster in Thailand. Disaster pics are definitely out of fashion with The Academy after their 70s heyday and with good reason. These days, more often than not, disaster pictures are merely excuses for massive CGI setpieces which dangle like plot markers along slim implausible storylines. But The Impossible's highly watchable if not always succesful mix of Epic Sentiment (capitals intended) and Disaster Pic Thrills may mark it as something of a golden throwback. Naomi Watts's trademark intensity is an easy match for the material — we spend most of our time with her — but its Ewan McGregor, that absolutely endearing star that Academy voters have mysteriously never fallen for, and his screen son Tom Holland who bring out the waterworks. If critics and audiences can get past its uncomfortable focus on Very Blonde White People in a foreign disaster that killed thousands of non-whites, it could be a sleeper hit.
An accidental bonus: The Impossible doesn't open until December which means that none of you will have the misfortune of chasing it with a trip to the beach. I don't recommend hitting Fire Island beaches immediately after watching tsunami pictures which is what I did. I have terrible timing.
P.S. I was asked a couple of times at the beach "Which Oscar hopefuls should I already have seen?" Here's my standard response if you need to get caught up: 1) Beasts of the Southern Wild (the surest thing from summer though it's hardly a lock) 2) Moonrise Kingdom and Magic Mike (if you want to get angry when they're snubbed in various categories) 3) The Avengers, The Dark Knight Rises, and Prometheus if you want to stay up on the possibilities in the too-rarely discussed craft categories. The Studios habitually save the Oscar hopefuls for the last four months of the year from the common wisdom that Oscar has a short memory; we've only just begun.
Nathaniel Rogers would live in the movie theater but for the poor internet reception. He blogs daily at the Film Experience. Follow him on Twitter @nathanielr.