History tells me that Hedlund's potentially star-making sexually charged performance will have trouble finding solid ground with AMPAS voters. "Dean" beds so many people in the film, men and women, that his sexual appetites are both thrilling and unsettling. His sexual journey starts to feel like its own alternate On the Road odyssey — unwilling to slow down and unable to feel at home at home, no matter which marriage (Kristen Stewart or Kirsten Dunst) or romanticized friendship (Sam Riley and Tom Sturridge) is offering him one.  Future Oscar traction or no, it's a major step forward in a career heretofore known for far less compelling performances like the naive Mormon who Lindsay Lohan blows in Georgia Rule or the arrogant heir to a computer world in Tron: Legacy. 
Joaquin Phoenix & Philip Seymour Hoffman in THE MASTER (Sept. 14)
It's been an astounding 28 years since the last double dip in the Best Actor category (1984's Amadeus). It's not that there haven't been two-lead films but that the studios have long since perfected fraudulently campaigning. One of my proudest psychic Oscar pundit moments was declaring, a year before its release, that whoever was the bottom in Brokeback Mountain would go supporting and I was right. Will Oscar finally reject category fraud and vote for a double lead again?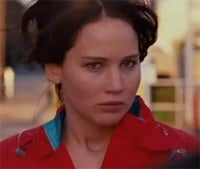 Everyone in SILVER LININGS PLAYBOOK (Nov. 21) and ARGO (Oct. 12)
The year's biggest Oscar story out of the fall festival circuit is that Ben Affleck's third directorial effort ARGO and David O. Russell's SILVER LININGS PLAYBOOK are both major quality crowdpleasers and therefore bonafide Best Picture threats. It's still early but it's unwise to vote against Jennifer "Katniss" Lawrence (Silver Linings) in Best Actress. Word is she gets mid-film applause and when you get mid flim applause you might take home a statue.
Naomi Watts & Ewan McGregor in THE IMPOSSIBLE (Dec. 21)
The acclaimed stars play a married couple ripped apart by violent waves in this true story set during the 2004 tsunami disaster in Thailand. Disaster pics are definitely out of fashion with The Academy after their 70s heyday and with good reason. These days, more often than not, disaster pictures are merely excuses for massive CGI setpieces which dangle like plot markers along slim implausible storylines. But The Impossible's highly watchable if not always succesful mix of Epic Sentiment (capitals intended) and Disaster Pic Thrills may mark it as something of a golden throwback. Naomi Watts's trademark intensity is an easy match for the material — we spend most of our time with her — but its Ewan McGregor, that absolutely endearing star that Academy voters have mysteriously never fallen for, and his screen son Tom Holland who bring out the waterworks. If critics and audiences can get past its uncomfortable focus on Very Blonde White People in a foreign disaster that killed thousands of non-whites, it could be a sleeper hit.
An accidental bonus: The Impossible doesn't open until December which means that none of you will have the misfortune of chasing it with a trip to the beach. I don't recommend hitting Fire Island beaches immediately after watching tsunami pictures which is what I did. I have terrible timing.
P.S. I was asked a couple of times at the beach "Which Oscar hopefuls should I already have seen?" Here's my standard response if you need to get caught up: 1) Beasts of the Southern Wild (the surest thing from summer though it's hardly a lock) 2) Moonrise Kingdom and Magic Mike (if you want to get angry when they're snubbed in various categories) 3) The Avengers, The Dark Knight Rises, and Prometheus if you want to stay up on the possibilities in the too-rarely discussed craft categories. The Studios habitually save the Oscar hopefuls for the last four months of the year from the common wisdom that Oscar has a short memory; we've only just begun.
Nathaniel Rogers would live in the movie theater but for the poor internet reception. He blogs daily at the Film Experience. Follow him on Twitter @nathanielr.