The U.S. Ambassador to Libya, Christopher Stevens (pictured), and three American members of his staff were killed in an attack on the U.S. consulate in the eastern city of Benghazi inspired by anger over a film posted on YouTube and promoted by Florida pastor Terry Jones: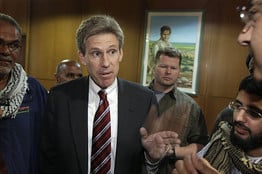 Jones showed the trailer for the film, which disparages the life of the Prophet Mohammed and his followers, on Tuesday during what he called, "International Judge Mohammad Day."
"Reports say the film depicts Muhammad and Islam's other founders as womanizers, child molesters and homosexuals," according to the Wisconsin Gazette.
Graphic photos (warning) of what appears to be Ambassador Stevens after the attack were released by AFP.
President Obama released a statement:
I strongly condemn the outrageous attack on our diplomatic facility in Benghazi, which took the lives of four Americans, including Ambassador Chris Stevens. Right now, the American people have the families of those we lost in our thoughts and prayers. They exemplified America's commitment to freedom, justice, and partnership with nations and people around the globe, and stand in stark contrast to those who callously took their lives.
 
I have directed my Administration to provide all necessary resources to support the security of our personnel in Libya, and to increase security at our diplomatic posts around the globe. While the United States rejects efforts to denigrate the religious beliefs of others, we must all unequivocally oppose the kind of senseless violence that took the lives of these public servants.
 
On a personal note, Chris was a courageous and exemplary representative of the United States. Throughout the Libyan revolution, he selflessly served our country and the Libyan people at our mission in Benghazi. As Ambassador in Tripoli, he has supported Libya's transition to democracy. His legacy will endure wherever human beings reach for liberty and justice. I am profoundly grateful for his service to my Administration, and deeply saddened by this loss.
 
The brave Americans we lost represent the extraordinary service and sacrifices that our civilians make every day around the globe. As we stand united with their families, let us now redouble our own efforts to carry their work forward.
As did Secretary of State Clinton:
I condemn in the strongest terms the attack on our mission in Benghazi today. As we work to secure our personnel and facilities, we have confirmed that one of our State Department officers was killed. We are heartbroken by this terrible loss. Our thoughts and prayers are with his family and those who have suffered in this attack.
This evening, I called Libyan President Magariaf to coordinate additional support to protect Americans in Libya. President Magariaf expressed his condemnation and condolences and pledged his government's full cooperation.
Some have sought to justify this vicious behavior as a response to inflammatory material posted on the Internet. The United States deplores any intentional effort to denigrate the religious beliefs of others. Our commitment to religious tolerance goes back to the very beginning of our nation. But let me be clear: There is never any justification for violent acts of this kind.
In light of the events of today, the United States government is working with partner countries around the world to protect our personnel, our missions, and American citizens worldwide.

Mitt Romney launched a political attack on Obama:
"I'm outraged by the attacks on American diplomatic missions in Libya and Egypt and by the death of an American consulate worker in Benghazi," said Romney in the statement, which the campaign initially embargoed for midnight, which was when the 9/11 anniversary would have ended, and was sent out a short time ago (this was one of the sharper statements of the day, although as I noted earlier, the anniversary was hardly devoid of politics by both Democrats and the Obama campaign, and Republicans, before this).
"It's disgraceful that the Obama Administration's first response was not to condemn attacks on our diplomatic missions, but to sympathize with those who waged the attacks," Romney added.
The Obama campaign responded:
"We are shocked that, at a time when the United States of America is confronting the tragic death of one of our diplomatic officers in Libya, Governor Romney would choose to launch a political attack."