Ted Olson, one of the two star attorneys leading American Foundation for Equal Rights in its court battle against Proposition 8, is coaching GOP VP nominee Paul Ryan for his debates against Vice President Joe Biden, several news outlets are reporting: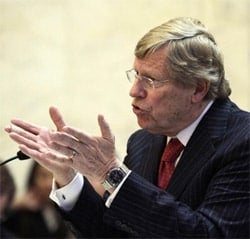 Chris Johnson at the Washington Blade:
Ted Olson, who's been litigating against Prop 8 on behalf of the American Foundation for Equal Rights, is set to play the role of Vice President Joseph Biden in debate practice against Republican vice presidential nominee Paul Ryan. Buzzfeed and Politico reported the news Saturday morning, which was confirmed to the Washington Blade by Brendan Buck, a Ryan spokesperson working on the Romney campaign.
"Joe Biden has been in elected office for more than 40 years," Buck said. "There are few people in politics with more experience debating the issues than Joe Biden, so we are taking this process seriously. Mr. Olson is one of the most skilled, intelligent, and successful litigators in America– just the kind of opponent needed to prepare the congressman for Mr. Biden."
Buck said Olson will receive no compensation from the Romney campaign for his role impersonating Biden as part of debate preparation.
National Stonewall Democrats executive director Jerame Davis is concerned:
"After he has spent as much time, money, and reputation on overturning Prop 8 as he has, it's shocking to learn that Ted Olson would lift a finger to help the Romney-Ryan ticket during debate prep. The Romney-Ryan ticket stands completely counter to the goals of AFER and Ted Olson's stated belief that Prop 8 should be overturned. I have always been concerned that the architect of Bush v. Gore was one of the lead attorney's in the fight to overturn Prop 8, but I honestly never expected Olson to so blatantly contradict his own argument by supporting a ticket that would stand squarely in opposition to what he calls one of the most important cases of his career."
Other LGBT group leaders offer more of a shrug. Rick Jacobs, chair of the Courage Campaign, says "I know [Olson's] commitment to equality is real and unshakable" and hopes he will use some of those hours lecturing Ryan on equality. Freedom to Marry's Evan Wolfson said he prefers when Olson works for our side.