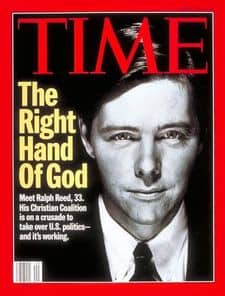 "Ralph Reed is clearly relishing his revival." Those words, the first in a New York Times article about the evangelical operative's rise from the political ashes, should strike fear in anyone who remembers how Reed shaped the family values voting bloc that brought us the Christian Coalition and President George W. Bush.
Those who appreciate right wing fear mongering and exclusionary politics, meanwhile, will celebrate the news that Reed is now deeply ingrained in GOP efforts to elect Mitt Romney – or unseat President Obama, whichever comes first. And, yes, those efforts include Reed exploiting marriage equality debates and economic uncertainty.
In addition to its presidential election turnout campaign, the group plans to focus on two state ballot measures: a proposed constitutional ban on same-sex marriage in Minnesota and an effort to recall an Iowa Supreme Court justice who voted to legalize same-sex marriage in the state.

Mr. Reed and his allies agree that social issues alone will not turn the election.

Same-sex marriage, for instance, "doesn't raise the temperature of the bulk of the Catholic Mass-going voters," said Mr. Hudson, adding that while it was still a concern, "attitudes about homosexuals have changed so much over the last several years."

So the group plans to pair its social message with a broader economic one. The president's health care overhaul will be depicted as both big government spending and an assault on religious liberty; the law mandates that employees of organizations affiliated with religions, like hospitals, universities and charities, be able to obtain free contraception through their health care plans.
As for the turnout campaign mentioned at the beginning of that excerpt, Reed's Faith and Freedom Coalition has amassed a list of about 17 million GOP-leaning religious voters.
This list came from mining Megachurch rosters, examining DMV registries for pick up truck owner and studying the people who downloaded Sarah Palin's Going Rogue and other conservative reading materials. Also, by their own admission, they also look for married folk who live in homes worth more than $100,000, because you gotta have math.