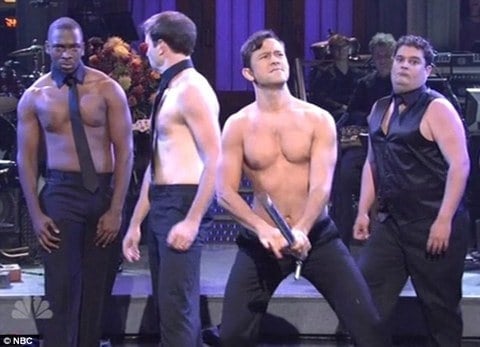 Joseph Gordon-Levitt gave it his all while hosting Saturday Night Live last night, and it paid off. But how could it not when the actor opened with a glorious Magic Mike spoof that brought as many laughs as it did skin?
Another bit involved Gordon-Levitt discussing the decidedly fabulous "finer things" with Jay Pharoah and Kenan Thompson, and one of the final skits had the thespian portraying a masculine love lorn lass named Evelyn. What could have been an offensive few minutes was actually exceedingly well done, as you'll see from the clip AFTER THE JUMP.
I've also included "The Finer Things" clip AFTER THE JUMP, as well as a pretty make-shift recording of Gordon-Levitt's opener. When a better one becomes available I'll switch it out.
OPENING MONOLOGUE:MY DAUGHTER:THE FINER THINGS: