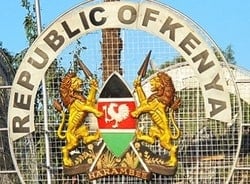 A report from the LGBT magazine Identity Kenya claims that police officers there are taking advantage of the African nation's ban on homosexuality by luring gay men out of hiding to blackmail them.
Anthony Oluoch, the former Legal and Human Rights Officer based at the Gay and Lesbian Coalition of Kenya (GALCK) said that blackmail and extortion is the leading form of violation reported at his desk by Kenyan gay men most of whom are married.

'It accounts for over 30% of cases we see in a year,' said Oluoch.
Oluoch said that most blackmailers are either gays or straight people acting gay in order to get targets.

One avenue they mostly use is social networks and sites. 'One of the places they often visit is Facebook and dating sites like Gay Kenya, GayRomeo, GayDar and ManJam where people put their profiles for dates, sex or mutual friendship,' Oluoch reported.
It's unclear how many men have been blackmailed, but this news is just the latest example of how rampant homophobia has become in Kenya, where a gay man was stoned to death in June.