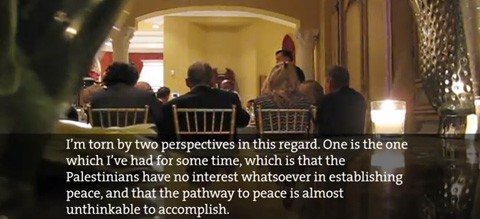 Some new clips are out today in the series posted by Mother Jones in which Romney trashes the two-state solution for Israel and the Mideast peace process in general.
Watch, AFTER THE JUMP…
Says Romney:
And so what you do is you say, "You move things along the best way you can." You hope for some degree of stability, but you recognize that this is going to remain an unsolved problem. We live with that in China and Taiwan. All right, we have a potentially volatile situation but we sort of live with it, and we kick the ball down the field and hope that ultimately, somehow, something will happen and resolve it. We don't go to war to try and resolve it imminently. On the other hand, I got a call from a former secretary of state. I won't mention which one it was, but this individual said to me, you know, I think there's a prospect for a settlement between the Palestinians and the Israelis after the Palestinian elections. I said, "Really?" And, you know, his answer was, "Yes, I think there's some prospect." And I didn't delve into it.
Romney also talks about Iran's nuclear ambitions and the prospects they could produce a dirty bomb, though Mother Jones notes that "Romney didn't appear to understand that a dirty bomb—an explosive device that spreads radioactive substances—does not require fissile material from a nuclear weapons program. Such a bomb can be produced with, say, radioactive medical waste."
Says the GOP nominee:
If I were Iran, if I were Iran—a crazed fanatic, I'd say let's get a little fissile material to Hezbollah, have them carry it to Chicago or some other place, and then if anything goes wrong, or America starts acting up, we'll just say, "Guess what? Unless you stand down, why, we're going to let off a dirty bomb." I mean this is where we have—where America could be held up and blackmailed by Iran, by the mullahs, by crazy people. So we really don't have any option but to keep Iran from having a nuclear weapon.
Finally, Romney trashes Obama's foreign diplomacy:
The president's foreign policy, in my opinion, is formed in part by a perception he has that his magnetism, and his charm, and his persuasiveness is so compelling that he can sit down with people like Putin and Chávez and Ahmadinejad, and that they'll find that we're such wonderful people that they'll go on with us, and they'll stop doing bad things.
Watch, AFTER THE JUMP…
On the Mideast conflict:
On Iran's nuclear goals:
On Obama's foreign policy: