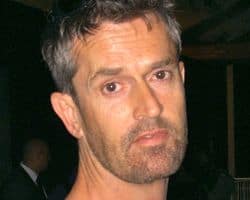 Rupert Everett, of My Best Friend's Wedding, Shakespeare In Love, and so on, "can't think of anything worse than being brought up by two gay dads."
So he says in an interview with The Sunday Times. (The Times is subscription-only, but you can find a recap at The Telegraph.) Why does he feel this way? It's his mum:
"She thinks children need a father and a mother and I agree with her," he
said … "Some people might not agree with that. Fine! That's just my opinion"
Rupert's mum, says the actor, always wanted her son to marry a woman and have kids. She'd still like that, she says:
"I'd like him to have children. He's so good with children. He'd make a
wonderful father.

"But I also think a child needs a mummy and a daddy. I've told him that and he
takes it very well. He doesn't get angry with me. He just smiles."
In case we'd forgotten, the Telegraph helpfully reminds us that Rupert Everett is the same actor who's urged gay thesps to remain in the closet for the good of their careers.