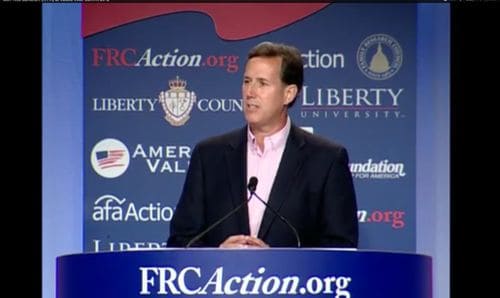 AFTER THE JUMP, see Rick Santorum's suddenly infamous speech at this weekend's Values Voter Summit.
The part of Rick's speech to so far command the most attention arrives near the end, when the ex-senator explains why "the media" will never be on the side of conservatives:
We're gonna trust you. That's why the media doesn't go along with us. You have to understand that. They don't like conservatism. They like the other side. Not necessarily — I would argue — because they necessarily agree with them. Because they can influence the country. You see, if just a few people make decisions about what this world looks like, what this country looks like, then you can people sitting in offices — major media outlets, and in Hollywood — they can deal with a small group of people … it's much harder if all of you collectively build America. It's much harder to influence you. We will never have the media on our side. Ever, in this country. We will never have the elite, smart people on our side, because they believe they should have the power to tell you what to do. 
Fun as it is to pretend that Rick was declaring war on smart people with that remark, it's pretty plain he was being sarcastic. More interesting, maybe, is Rick's sputtering from about the 5:00 – 7:00, as he tries to find words to convincingly endorse of Mitt Romney, a man he apparently despises. Check it out.