Rep. Tammy Baldwin leads her opponent Tommy Thompson in the Wisconsin race for U.S. Senate, according to a new internal poll, the National Journal reports: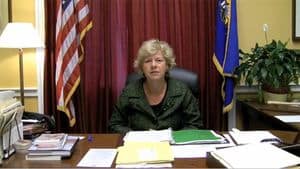 Baldwin leads Thompson, 50 percent to 45 percent, while 5 percent of respondents are undecided. The Democrat's lead is not considered statistically significant because it is inside the poll's margin of error.
Thompson is considered the favorite in the race, thanks to his history of appealing to independents and moderate Democrats and his four gubernatorial victories. After emerging from a crowded GOP primary last month, Thompson led Baldwin in several independent polls. But President Obama and down-ballot Democrats have seen encouraging polling numbers in the wake of the Democratic National Convention.
According to a polling memo from The Feldman Group, Baldwin's lead marks a notable turnaround for the Democrat. In a previous internal poll conducted in August, Thompson led Baldwin, 50 percent to 44 percent.
Baldwin would be the first openly gay member of the U.S. Senate if elected.