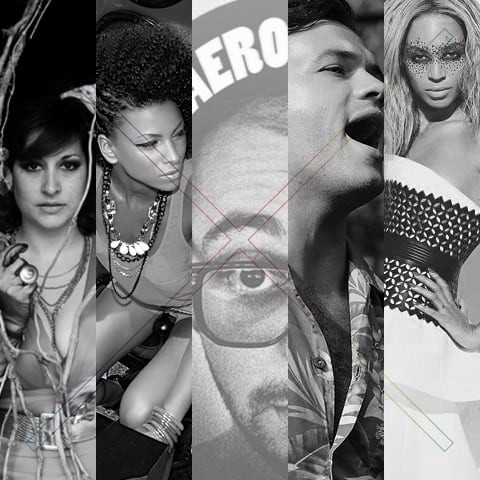 BY OCCUPY THE DISCO / RU BHATT
The OXD Mirror is a weekly music column brought to you by the boys of OCCUPY THE DISCO (OXD), a New York City based movement created by three music lovers, Ru Bhatt, Josh Appelbaum, and Tadeu Magalhães, who want to share their love for disco, house and dance music with the world. 
Midnight Magic & Tommie Sunshine – 'I Found Love'
Hailing from New York,
Midnight Magic
is a nine person ensemble that describes themselves as "the secret love children of Donna Summer and George Clinton," and masterfully combine funk, disco, electro and soul in an effort to make the listener and rhythm become one. After hearing the
Jacques Renault
remix of their 2010 hit, '
Beam Me Up
,' Brooklyn-based legend
Tommie Sunshine
was amazed that a modern band could create something so classic and pure. Feeling inspired, Sunshine used social media to seek them out, resulting in this collaboration. This timeless song combines 70′s disco, early 80′s Chicago House and the piano-driven dance music of New York in the 90′s, into a multi-layered track that is topped with the brilliant soulful vocals of chanteuse Tiffany Roth.
Escort – 'Starlight (RAC Remix)'
Escort is yet another New York-based band that has taken it upon themselves to revitalize disco for a new era. Although their debut single, 'Starlight' was released way back in 2006,  RAC (Remix Artist Collective) has revived the song for the band's upcoming Escort Remixed, out on October 16th. Portugal-based André Allen Anjos, founder of RAC, supplements Escort's 17 piece orchestra with an italodisco bassline that will keep your feet tapping as you enjoy Adeline Michele's delightful vocals.
Erika Spring – 'Happy At Your Gate (Aeroplane Remix)'
Amongst other productions, Aeroplane (Vito De Luca) gained tremendous amounts of buzz with his collaboration with Brooklyn-Based Au Revoir Simone on his classic rework for for Friendly Fires' 'Paris'. Considered a leader in the nu-disco and Balearica scene, the Italian-Belgian producer's records demonstrate a passion for soulful disco and early '80s electronica. Erika Spring is the solo project of Au Revoir Simone's keyboardist/singer, Erika Forster. Though new Aeroplane mixes are rather rare these days (he tends to focus on his own productions), his decision to remix Erika's new single, 'Happy At Your Gate,' should come as no surprise given their previous collaborations. The result is a cosmic disco track with takes advantage of Forster's sultry, tempered vocals to create an immense floor-filling tune. If you're in New York and interested in hearing Aeroplane live, be sure to Occupy the Disco with us next Friday, October 5th. More details can be found on our site.
St. Lucia – 'September'
We first discovered the Brooklyn-via-South Africa act St. Lucia when they opened for Monarchy last year (which coincidentally was the night OXD was founded), and instantly recognized they will be a force to be reckoned with on the electro-pop scene. 'September' is the first single off their new album which is due early next year. This expansive track slowly builds with deep synths creating an epic, atmospheric feel that crescendos until the vocals finally kick in at the two-and-a-half minute mark. The song pulses with energy that transports you to a cosmic realm that is clearly influenced by executive producer James Iha. I highly recommend the Alex Metric Remix, which highlights lead singer Jean-Philip Grobler's beautiful vocals.
Duke Dumont – 'Giver'
Hot off the heels of his epic
Santigold remix
, UK Producer
Duke Dumont
has is back with 'The Giver', a vocal house anthem that captures the euphoria of feeling good on the dancefloor. While the lyrics are simple, the soulful vocals and deep Chicago House sound combine to create a massive, irresistible track. 'The Giver' is on Dumont's second EP titled,
For Club Play Only Vol. 2
, out now.
'Beyoncé – I Was Here (StrictLove's Beach House Remix)' 
Beyoncé is a diva that needs no introduction, but what you may not know is thanks to a slew of various producers, such as Maurice Joshua and Red Top, there are quite a few Beyoncé singles that have been turned into disco and house tracks. 'I Was Here,' is Bey's latest, released on World Humanitarian Day. With this rework, The Australian dance-electronic act StrictLove has added soulful guitars and churning deep synths, creating a melodic house anthem that is best appreciated on the dancefloor.
This week's post was written and curated by Ru Bhatt. Check out more of his music picks on his podcast, The Ru-Mix.