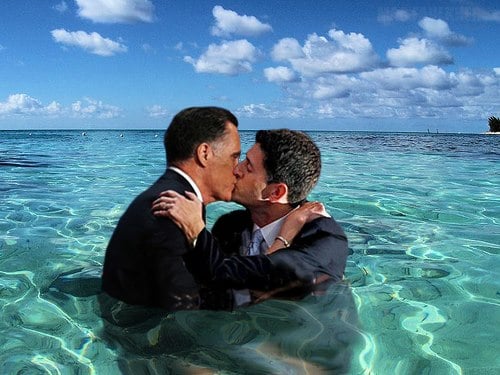 PHOTO OF THE DAY: Romney and Ryan suck face!
BY SAM GREISMAN
A look back at today's top stories
WINGNUTTERY AND FALLEN IDOLS

Former SNL castmember and all around total wackjob Victoria Jackson has made a name for herself by spouting hateful and uneducated nonsense. She attended the DNC earlier this month and today posted a video of a "debate" she had with a gay rights activist (and he's cute too!) on the street. It's more like a "disaster".

As we have all learned, Chick-fil-A is run by an anti-gay wingnut and one employee of 9 years has had enough of the company's hatred. 
A former gay porn star is headed to jail. Marc Anthony Donais, AKA Ryan Idol, will be spending 12 years in prison after being convicted of the attempted murder of his girlfriend.

**
MARRIAGE EQUALITY
With the LGBT communitywaiting on word from the Supreme Court regarding if they will review DOMA and Prop 8 cases, our legal expert Ari Waldman tells us what we can expect. 
**
ENTERTAINMENT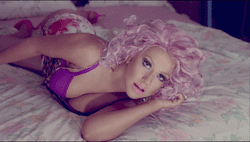 Christina Aguilera leaves a trail of men in her wake in her new video for "Your Body". 
If the lack of protection for gay couples when it comes to deportation worries you then there is a new documentary in the works that you should keep an eye on. The filmmaker needs donations too!
**
FUN VIDEOS
Kathy Griffin made an appearance at the iHeartRadio festival and took the opportunity to grope Ryan Lochte. Well who wouldn't? Speaking of grope-able guys, Zac Efron visited Sesame Street this week. He taught Elmo all about being really cute. No, not really.