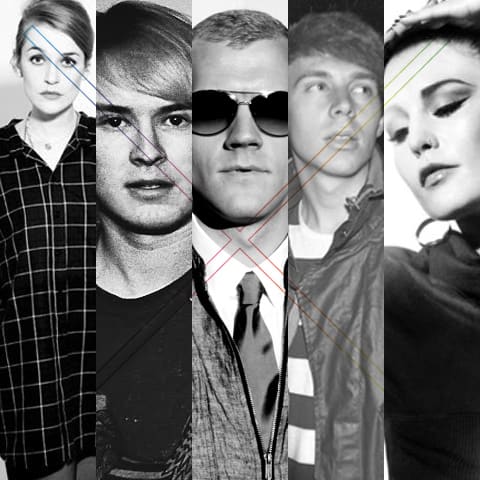 BY OCCUPY THE DISCO / RU BHATT
The OXD Mirror is a weekly music column brought to you by the boys of OCCUPY THE DISCO (OXD), a New York City based movement created by three music lovers, Ru Bhatt, Josh Appelbaum, and Tadeu Magalhães, who want to share their love for disco, house and dance music with the world. 
Many people consider Labor Day the end of summer despite having over 20 days left in the season. The songs in the first part of today's post echo this somber thought but after the jump you'll find tracks that will have you dancing into the fall.
The Reflections – 'Summer Days'
The California-based trio known as The Reflections focus on a failed summer romance on their debut single, 'Summer Days,' off their upcoming album Limerance. The song's breezy, light sound may make it sound like a cheery summer track, but don't let that fool you. The introspective lyrics, delivered in Darian Zahedi's soothing, melodic voice, tell a different story all together, leaving the listener wondering whether it is happy or sad to have ended the summer in solitude.
El Perro Del Mar – 'Walk on By'
Sarah Assbring, the Swedish pop artist better known as El Perro Del Mar, embraces being on her own with 'Walk on By,' the first single from her fifth album, Pale Fire. Sarah has moved on from the 60's-influenced album Love is Not Pop by playing the role of a chilled out, 80's Brit-soul/jazz singer that has decided to remove herself from the dating pool after one too many failed relationships. The sad tale is accompanied by haunting saxophone melodies that add to the song's seductive feel. If you're a fan of early Robyn or Lykke Li, this track is right up your alley.
Satellite Stories – 'Sirens (Slow Magic Remix)' 
The final solemn track in today's post comes from the Finnish quartet known as Satellite Stories. The original song is reminiscent of Two Door Cinema Club with its percussive, energetic sound. Known for their dreamwave style, Slow Magic replaces the original's staccato rhythms with soothing synths that give the lyrics a chance to shine. One can't help but sway along as lead singer, Esa, recounts a couple's last kiss before they end their relationship. Look for for Satellite Stories' debut album, Phases to Break the Ice, out on September 21st. 
MORE, DANCE-FRIENDLY, TRACKS AFTER THE JUMP…
Justin Byron – 'Dance to the Music (Gigamesh Remix)'
Justin Byron originally released this track in 1983, a time when disco was pretty much dead, making it no surprise that many have never heard of him. Luckily, super producer Gigamesh has revitalized it for a new era, creating a song that is absolutely irresistible. As with most disco songs the lyrics are rather simple but the beat, including the shiny enhancements by Gigamesh will definitely get you in the groove. 
Bondax – 'Baby I Got That (Justin Martin Endless Summer Remix)'
San Francisco-based Justin Martin has taken Bondax's much hyped tune, 'Baby I Got That' and given it a tropical house rework that is pure bliss. While the original version, created by UK teens George Townsend and Adam Kaye, will put you in mood to lounge lazily in the sun, Martin's extended remix is a dancefloor filling track. Martin speeds up the vocals, adds Balaeric rhythms and house pianos, a combination that will have your hands up in the air as you bounce along to his signature basslines. Listening to either version will have you wishing for an endless summer, indeed.
Hot Chip – 'How Do You Do (Todd Terje Remix)'
Hot Chip's melodic vocals and quirky synths will always have a special place in my heart, and their latest single from In Our Heads, 'How Do You Do,' is no exception. This time, rising star Todd Terje (hailing from Norway) has reworked the original into a smile inducing, 9-minute dance anthem that is best enjoyed while reveling in the sun. You can also download the remix as part of The Magician's Magic Tape 25, which is available here.
Jessie Ware – 'Running (Disclosure Remix)'
The music blogs can't stop talking about Jessie Ware, a new UK pop sensation who is taking the world by storm with her recently released debut album, Devotion. With this remix, the band of brothers known as Disclosure (whom I have written about before), have injected Jessie's single, 'Running,' with their signature house groove creating an entertaining bass-heavy club banger.
Will Young – 'I Just Want a Lover (Wideboys Remix)'
I've been somewhat obsessed with the original version of UK-based Will Young's 'I Just Want A Lover' since it was released in late June. Produced by Richard X, the classic disco four-four beat and touching lyrics sung by Young's delicate voice make the song incredibly catchy. With this remix, UK-based House producers Wideboys have sped up the vocals and added a spacey dance beat while still maintaining the disco flavor of the original, creating a veritable gay dance anthem.
OCCUPY THE DISCO (OXD) curates and recommends music events to the gay community in NYC—in an effort to move the focus of the nightlife scene beyond the promoter and venue and to the music itself. OXD's goal is to educate, entertain, engage and empower the gay audience to reclaim their ability to question and experience the unknown. The OXD Mirror will serve to showcase tunes that are definitely off-the-beaten-path but rightfully deserve the attention of the gay ear. It's music that will make you dance, dream, and most importantly, love.
This week's post was written and curated by Ru Bhatt. Check out more of his music picks on his podcast, The Ru-Mix.

For more information on OXD, check out our website and accompanying blog at www.occupythedisco.com, like us on Facebook, or follow us on Twitter: @OccupyTheDisco.