The threat of severe weather has caused Democratic Convention organizers to move Obama's Thursday night speech  indoors to the Time Warner Cable arena (where last night's and tonight's events are situated) rather than the Bank of America stadium, CNN reports: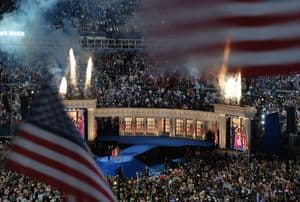 "We have been monitoring weather forecasts closely and several reports predict thunderstorms in the area, therefore we have decided to move Thursday's proceedings to Time Warner Cable Arena to ensure the safety and security of our delegates and convention guests," said DNCC CEO Steve Kerrigan.
Officials had already handed out 65,000 tickets for the event at the Bank of America stadium, but the Time Warner Cable Arena-home to NBA's Charlotte Bobcats-can seat up to 21,000. As a result, thousands will be turned away.