BY SAM GREISMAN
A look at some of today's stories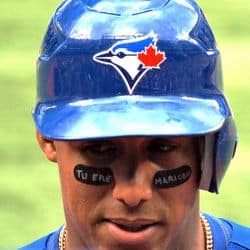 Mitt Romney sure is on a roll. After bungling his response to the attacks in Libya last week, this week has been decidedly worse for the Romney campaign. Yesterday a video came to everyone's attention in which Romney, at a private fundraiser, attacked Obama voters and the now infamous "47 percent" of Americans that will vote for him no matter what. Today the full video was released by Mother Jones. The Romney Campaign is desperately searching for a way out of this mess and judging by Romney's squirmy performance at an emergency press conference today, they haven't found the answer yet. 
How damaging will these statements be for the Romney camp? Mother Jones' Reporter David Corn had some answers for Rachel Maddow last night. Needless to say the Obama campaign is already on top of this latest Romney misstep. They are out with a new ad. 
**
In a rather shocking statement of anti-gay sentiment, Toronto Blue Jay shortstop Yunel Escobar took to the field this weekend with a gay slur written into his eye black. Today he was punished for his actions. 
**
A straight Cathoiic couple might not be who one would expect to be the face of an ad campaign against an anti-gay marriage amendment. However that is exactly what is happening in Minnesota. And Clint Eastwood may have appeared at the RNC (rather infamously) and
may believe that Obama is "the greatest hoax ever perpetrated on the
American people", but he is very pro gay marriage!
**
One Columbia medical student's creepy interaction turned into a nightmare when his supervisor would not leave him alone. He is now suing the University.
**
Videos of the Day: If you like 'Gangnam style' dancing and men in uniform, this is probably the video for you! And have you ever wondered what it looks like just 30 meters from the edge of an active volcano? Wonder no more!
Music Video of the Day: It seems that Ke$ha has moved on from annoying most of America to annoying passengers on a Tokyo subway.