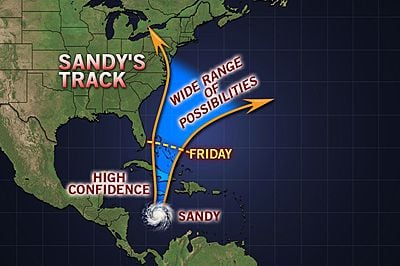 Accuweather floats the possibility:
The worst case scenario for the East Coast involves Sandy paralleling the coast from Florida to the Carolinas this weekend before being drawn inland over the mid-Atlantic or New England early next week.
While the Southeast coast would face heavy rain, strong winds and rough surf, far more serious impacts await communities from Virginia to Maine if this solution pans out.
Reminiscent of the "Perfect Storm" during the week of Halloween 1991, damaging winds and significant storm surge would unfold near and northeast of its center along the coast. Similar to the 1991 storm, these conditions could last for days.
Video forecast here.