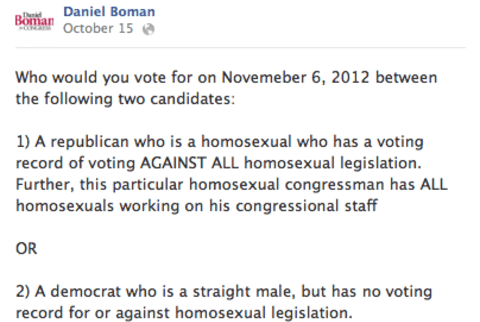 Alabama State Rep. Daniel Boman, a Democrat currently running for U.S. Congress, is gaining some national exposure for what's a pretty low blow: suggesting that his Republican rival, U.S. Rep. Robert Aderholt, is secretly gay and that this self-hate has led to his anti-gay legislative record.
In a Facebook posting published last week and just now getting attention, thanks in part to The Advocate, Boman, a former Democrat who switched parties in 2011, asks his fans, "Who would you vote for on Novemeber 6, 2012 between the following two candidates?"
The choices are A) "A republican who is a homosexual who has a voting record of voting AGAINST ALL homosexual legislation. Further, this particular homosexual congressman has ALL homosexuals working on his congressional staff", or B) "A democrat who is a straight male, but has no voting record for or against homosexual legislation."
It's worth noting here that the welcome message on Boman's Facebook page reads, "We need to protect our values and our jobs in Alabama. The Fourth Congressional District needs someone who understands our district, not a Washington insider."
Asked whether he meant to say that Aderholt, who is married and has two children, is gay and staffing his office with gay men, Boman said his question was simply "hypothetical" and tried to pass the buck by blaming his staffers.
"The people running my campaign posed a hypothetical question," he said last week. "The reason they posed the hypothetical question is we received phone calls about a congressman who may be homosexual."
Boman was also asked whether he thinks Aderholt is gay, to which the congressman responded, "The only way to remove the hypothetical is to call and ask him."
Aderholt's campaign had this to say about Boman's tactic: "When someone is making a fool of himself, we hate to interrupt."