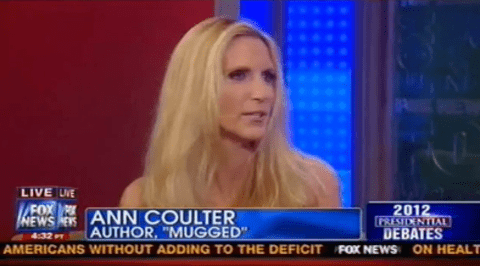 Ann Coulter's dissection of the first presidential debate is chock full of her typical hyperbole and "shock" commentary, like her assertion that President Obama's ears are too big and that he "looked depressed" and like he's rather be playing golf.
The most egregious display of intentionally illogical trouble-making, though, came when the conservative pundit claimed First Lady Michelle Obama wanted to go home with Mitt Romney on her and the president's anniversary night.
He looked depressed. He looked anemic. Those big ears poking out. The first time I watched the debate, I was mostly listening to it and Romney was killing. And then I watched it again and toward the end was actually watching it and the visual made it so much worse, Obama was depressed and looking down. You could see at the end of the debate, he knew that, anniversary or not, Michelle wanted to go home with Mitt.
Watch Coulter's bloviate, via Mediaite, AFTER THE JUMP.