Bill and Melinda Gates have given half a million dollars to the battle to approve Referendum 74, the ballot measure that would put the state's legislatively-passed marriage equality law into effect, the AP reports: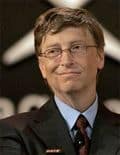 The donation was announced Tuesday by Washington United for Marriage, which is working to approve Referendum 74. The donation was made on Oct. 15, but didn't publicly post online with the Public Disclosure Commission until Tuesday. Referendum 74 asks voters to either approve or reject the law allowing same-sex marriage that was passed by the Legislature earlier this year.
Bill Gates had made a $100,000 contribution to the campaign earlier this year.
Meanwhile, the bigoted Vermont innkeepers Jim and Mary O'Reilly, who appeared in an anti-gay marriage ad for Maine which came out this week, are now also appearing in a reject R-74 ad.
Check it out, AFTER THE JUMP…