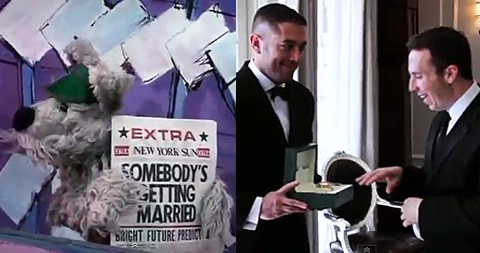 Back in May I posted a meticulously produced and performed song and dance video marriage proposal from producer Danny Rose to his boyfriend Aaron Rosenberg, an entertainment lawyer. Well, the two of them were married this past weekend in over-the-top Hollywood style.
The ceremony opened with a tongue-in-cheek video of The Muppets and Danny and Aaron performing "Somebody's Getting Married".
Watch it, AFTER THE JUMP…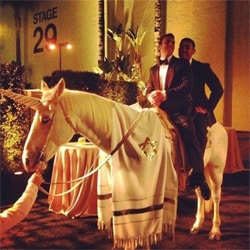 There may be more clips in the future, but here are some details on the rest of the ceremony, which took place on the Paramount lot and certainly sounds clip-worthy.
Shortly thereafter, the grooms made their way down the aisle atop a unicorn to a Jewish wedding ceremony "with a twist" led by Joss Stone backed by a surprise gospel choir singing a rendition of Lion King's "Circle of Life" and Lauryn Hill's "Tell Him". John Legend serenaded the grooms and their mothers on their mother-son dance with his song "Stay With You". Jennifer Lopez made a special dedication of her song "Papi," broadcast from her European tour. There was a surprise live performance by PSY of his hit "Gangnam Style" (for which he called the grooms to the stage to join him); and an impromptu performance by Ciara of the Diana Ross hit "Upside Down," with the grooms as her background vocalists in wigs.
Don't miss our other recent Gay Wedding videos…
Gay Wedding Video of the Day: Eli and Dave [tr]
Gay Wedding Video of the Day: Robert and Nathanael [tr]
Gay Wedding Video of the Day: JoAnna and Jenny [tr]
Gay Wedding Video of the Day: Kenton and Johnny [tr]
Gay Wedding Video of the Day: Jeff and Joe [tr]
(lower image via facebook)