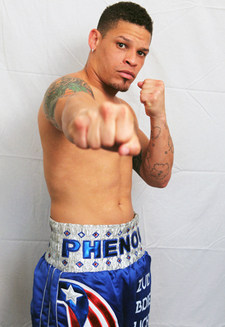 Over two decades since he began boxing, Puerto Rican featherweight fighter Orlando Cruz came out this week, making him the first openly gay, still-competing boxer in the sport's history.(Former fighter Emile Griffith came out as bisexual after he retired.)
"I've been fighting for more than 24 years and as I continue my ascendant career, I want to be true to myself," 31-year old Cruz, who began fighting at the age of 7, according to USA Today.
"I want to try to be the best role model I can be for kids who might look into boxing as a sport and a professional career. I have and will always be a proud Puerto Rican. I have always been and always will be a proud gay man."
Cruz, currently ranked 4th in his division, got his big shot in the ring during the 2000 Olympics, when he represented Puerto Rico in Sydney. The Pugilist offers more details on his career trajectory:
Cruz has been boxing since he was seven and boasted an amateur record
of 178-11, taking in seven national titles in his homeland and seven
international gold medals.

He turned pro shortly after the Sydney Games and won his first professional fight on December 15 2000 against Alfredo Valdez.

His highest profile bouts came with the end of his unbeaten record
with back-to-back defeats against Cornelius Lock and Daniel Ponce De
Leon in 2009 and 2010, the former battle taking place on the undercard
of Mayweather-Marquez.
Cruz's next fight is on October 19th, when he'll defend his WBO NABO against Jorge Pazos. Before that, though, he'll be sitting down for a television interview to discuss his coming out.