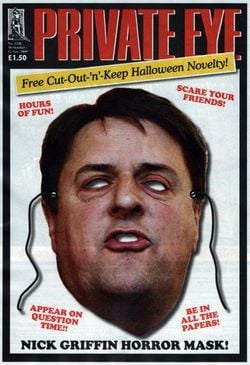 Nick Griffin, the chairman of the British National Party and a Member of European Parliament, took to Twitter today to voice his homophobic dismay over Michael Black and John Morgan's court win against a bed and breakfast that refused them because they're gay. And his comments have led the social media site to suspend his account and sparked a police investigation.
From the BBC:
Among the tweets on the @nickgriffinmep account were two which read: "So Messrs Black & Morgan, at [their address]. A British Justice team will come up to Huntington & give you a…

"…bit of drama by way of reminding you that an English couple's home is their castle. Say No to heterophobia!"

An earlier tweet on the North West region MEP's account had asked for the couple's address and then said: "We'll hold demo… for rights of all home owners, gays included, to rent or not rent rooms to whomsoever they wish."
Cambridge Police said they've "received a number of calls in relations to the tweets and are looking into the complaints we have received."
Griffin is one of the UK's more outspoken and outlandish anti-gay politicos. After the Admiral Duncan gay bar was bombed by a Neo-Nazi in 1999, Griffin blamed gay pride: "The TV footage of dozens of 'gay' demonstrators flaunting their perversion in front of the world's journalists showed just why so many ordinary people find these creatures so repulsive."