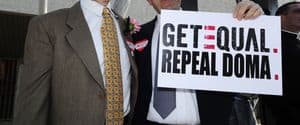 BY SAM GREISMAN
A look back at the top stories from today
GAY RIGHTS
Fantastic news out of New York where the U.S. Second Circuit Court of Appeals has ruled DOMA unconstitutional! Next stop the Supreme Court. Our Ari Waldman tell us what this all means. We might know a little bit about how many people this ruling effects thanks to a recent Gallup poll that, while possibly flawed, found that 3.4 percent of Americans self-identify as LGBT. Good news also from America's top sports leagues! The NFL, NBA, MLB and a few others will all be going purple to fight homophobic bullying tomorrow on GLAAD's Spirit Day. 
LGBT activists are raising the alert over the U.N. Human Right's Council's decision to fight for "traditional values". Also exposed is how The Knights of Columbus could have put the money they spent on anti-gay causes to better use. 
**
ELECTION 2012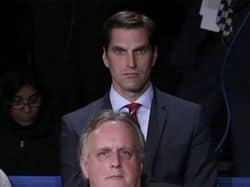 Tagg Romney was in attendance as his father Mitt debated Barack Obama on Tuesday and in keeping with the class that's associated with his family's name wanted to punch the President. Speaking of "class", GOProud's Chris Barron says he stands by "ally" Ann Coulter.
Take a look at Jimmy Kimmel's hilarious video of what the Romney family said to each other on stage after the debate. 
And Bruce Springsteen appeaed with Bill Clinton in Ohio and sang for Obama.
**
VIDEOS OF THE DAY
Nicole Richie was on Ellen yesterday and the host lined up some hunks for Richie to smell. Smells like fun!
This is so funny. A woman in North Dakota is SUPER confused by a deer crossing sign.