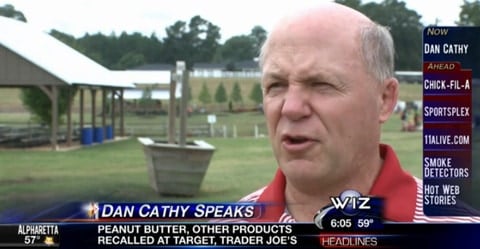 Atlanta's 11 Alive filmed a ridiculous interview with Chick-fil-A CEO Dan Cathy over the weekend after he agreed to answer questions about the recent anti-gay controversy in exchange for the network's coverage of his ranch and its Fall events.
He had his answers prepared. Someone told him to keep his focus on one word:
"Chick-fil-A's focused on families. We've always been that way. We're a family-owned business. We're led by family, and our restaurants are operated by families and we serve millions of families every week at Chick-fil-A. So, we're focused on the family."
He later added, "Families are very important to our country. They're very important to all of us who are concerned about being able to hang on to the heritage that we have. We support Biblical families, and they've always been a part of that."
Watch it, AFTER THE JUMP…