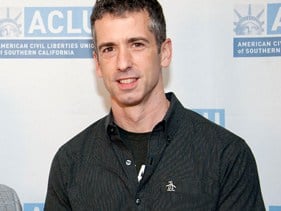 Dan Savage offers some advice for kids coming out on National Coming Out Day (and in general) to MTV News:
"Coming out is not the solution to your problems," he admitted. "Coming out is often the beginning of new problems. … We shouldn't just blindly encourage kids to jump out. They need to come with a plan: who your parents are, friends are, whether you're going to have support and then line up that support."
Listen, AFTER THE JUMP…
In related news, It Gets Better will be hosting a Google+ hangout series with Savage from 5-6 EST. The hangout follows an MTV special that aired Tuesday evening in partnership with It Gets Better. The main Google+ hangout: 5:00-5:15pm with Dan Savage, Terry Miller, Janet Mock, Scott Emanuel, Ben Cohen, Seth Levy followed by four breakout sessions on school, sports, and transgender topics, plus one hosted by Savage.
The main and breakout hangouts will be broadcast from the It Gets Better +Page. More information on the Google+ hangout can be found on the It Gets Better website, www.itgetsbetter.org.