The Broward County Log Cabin Republicans this week published an Obama attack ad containing a photograph of the body of slain Libyan Ambassador Chris Stevens in the Florida Agenda (p. 27) billed as Florida's largest LGBT newspaper, the Bilerico Project reports: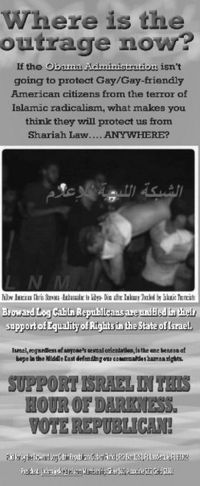 The ad claims that the Obama administration isn't protecting "gay/gay-friendly American citizens from the terror of Islamic radicalism" and suggests that Sharia law will be forced on America if Obama wins a second term.
The advertisement also insinuates that Ambassador Stevens was gay. Rumors about Steven's sexual orientation were started by Kevin DuJan, a gay Republican known best for his outrageous claims about President Obama. DuJan, who writes for the right wing blog HillBuzz, has also alleged that the President is also secretly gay.
The ad was condemned by National Stonewall Democrats Executive Director Jerame Davis:
"The Log Cabin Republicans of Florida have cravenly disrespected the life and legacy of a United States civil servant with this ad. Put bluntly, they have crossed the line of civil discourse and good taste by including an image of the corpse of slain US Ambassador to Libya Chris Stevens being carried through the streets of Benghazi, Libya. It is simply unimaginable to me how any political message, let alone the muddy and ludicrous message of this ad, in any way justifies disgracing the memory of a man who gave his life in service to his country. This level of depravity and moral indifference must not be allowed to enter our political discourse."
Log Cabin Republican Executive Director R. Clarke Cooper distanced the organization from the inflammatory ad:
"This ad does not represent the position of Log Cabin Republicans, and we reject it completely.The 9-11 attack on Americans posted in Libya was a straight up act of terrorism. There are plenty of reasons to vote Republican on protecting US interests abroad, but such an ad is fallacious, simple minded and irresponsible."