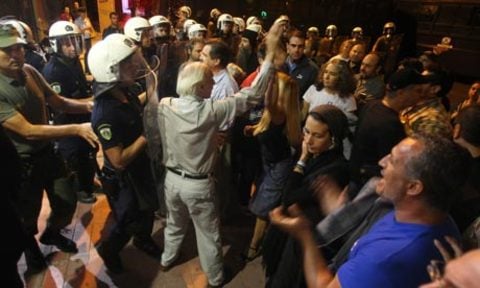 Police in Athens Thursday night detained 30 people during a violent protest by the neo-Nazi group Golden Dawn of the gay-themed play Corpus Christi.
In addition to blocking entry to the playhouse, the group also reportedly beat their opposition while the police turned their backs.
Penned by Terrence McNally in 1998, Corpus Christi has always been controversial because of McNally's casting of Jesus and the Apostles as gay men in Texas, a plot device Greece's Golden Dawn and dozens of other groups over the years have called "blasphemous."
"This is a blasphemous play," Golden Dawn lawmaker Ilias Panagiotaros said. He also launched into a tirade against gay people and Alabanians, because the play's director is Albanian, according to the South African Independent.
Leftist lawmaker Petros Tatsopoulo described the showdown as a "night of
terror," telling reporters, "Golden Dawn members twisted the doors so
the actors could not get out, and to keep [help] from getting in."
And according to eyewitness accounts, police did nothing as Golden Dawn members brazenly beat their open-minded opposition. Local reporter Manolis V offered his take via Twitter: "The police is next to us. I shout 'They're beating me, aren't you going
to do something?'… I move away so I can look on
from distance. A well-known Golden Dawn MP follows me. He punches me
twice in the face and knocks me to the ground. While on the ground, I
lose my glasses. The Golden Dawn MP kicks me. The police are just two
steps away but turn their back."
Yiannis Baboulias at UK's Guardian notes that this incident is just another example of how right-winger fascist groups are operating with carte-blanche in Greece:
Greece is being held hostage by a police force that increasingly appears
beyond state control, and which has long forsaken its role of
protecting citizens from the thugs they now side with, and by a
government which relishes the distraction the Golden Dawn provides from
the cuts and tax hikes.

The government's unwillingness to revoke
parliamentary privileges from those Golden Dawn MPs who participate in
or condone violent acts, and to speed up processes to have them
prosecuted and condemned, demonstrates this.
As in many other European nations, Greece has seen a rise in neo-Nazi activity, though Golden Dawn insists they're not related to Hitler and his hideous ideology. Rather, they claim to be patriotic.
"We will continue the fight for a Greece that belongs to Greeks," said Golden Dawn leader Nikolaos Michaloliakos in May after Golden Dawn retained 18 parliamentary seats.