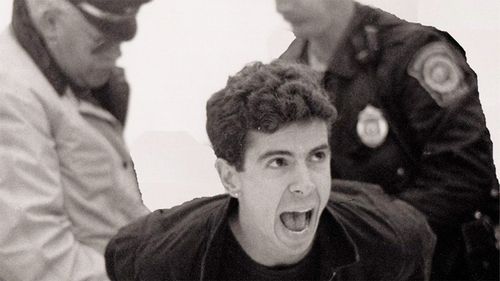 Last night, I had the opportunity to attend a screening of David France's How to Survive a Plague at the IFC Center in New York City. It is a story about ACT UP and the AIDS crisis in Greenwich Village between 1987 to 1996, but more accurately, it is a story about the struggles and success of several leading figures in that movement: How a few men took their diagnosis and became more educated about medicine and clinical trials than many PhDs; how a straight housewife took it upon herself to educate the community about the FDA and the NIH; how one man's pestering of Bill Clinton in 1992 got HIV/AIDS into a nationally televised debate.
Some of these stories ended tragically, as too many of us know too well. And, some of these stories are still being written, as evidenced by the many healthy HIV-positive members of our community today. It's a film worth seeing not only for its stark reminder of the sense of anger, despair, and urgency at the time, but as an inspiring story of unity, community, and love. No matter your age, your HIV-status, gender, or political involvement, How to Survive will make you cry; but the film's final scenes may be most rewarding few minutes you spend in a theatre this year. It is, after all, a story about hope, not death, life, not sorrow. It is the story of surviving the AIDS crisis. And, even as we mourn those vibrant young people AIDS took from us, we are so grateful that so many did survive and are, to this day, a part of us.
First-time director David France, an investigative reporter by trade, said that he did not time the release to coincide with any particular developments in the world and the gay community today, but it is hard to watch How to Survive without thinking about Occupy Wall Street, the Arab Spring, and, most notably, our community's quest for the freedom to marry. The times are different, as are the underlying goals. But, it is worth asking: What can we learn from the community's mobilization to fight AIDS?
I begin a discussion AFTER THE JUMP…
Surviving the AIDS crisis is qualitatively different than seeking the freedom to marry. One is literally a fight to avoid death; the other is important, but in a less urgent, immediate, instinctual way. Fighting against a plague threatening to wipe us out of existence prior to any notion of rights, honor, and equality. Life is a prerequisite for love.
It should come as no surprise, then, that ACT UP was fueled by urgency. The federal government's and hospitals' slowness to react and the Reagan Administration's willfully blind refusal to even mention AIDS in any real way coupled that urgency with anger and a need for grassroots activism. Urgency, anger, and grass roots power brought unity, a movement, and, ultimately, some progress. There may have been excesses and mistakes along the way; How to Survive is honest in its retelling of the movements difficulties. But, no one here is in a position to judge.
We are, however, in a position to learn. The quest for the freedom to marry is different. Our journey is less urgent. Edie Windsor's late wife, Thea, passed away before the couple could see the states and the federal government recognize their marriage. And, every day we go without marriage rights, elderly men and women are missing their chances to be treated with honor and dignity. But, no one is dying, no one is going blind, no one is getting too sick to walk.
Our movement is less angry. We have the President on our side, and we knew he was even before he said so publicly. We have two ex-presidents and ex-vice presidents, 14 current governors, and 166 members of the House and Senate on our side. We face hostility all the time — from the venial National Organization for Marriage to the outright lies of wingnuts like Bryan Fischer and most of the Republican Party leadership and members of Congress. But there is no sense that people are taking a blind eye to our rights.
The quest for the freedom to marry is not as grassroots as the fight against AIDS. This is not a value judgment. The fight against AIDS had to be grassroots; the elite not only ignored our community, but they would wear surgical gloves just to get near us. Today, the fight for marriage is in the courts, at the ballot, and in the hearts and minds of the great movable middle of America. By their nature, court cases and political battles require a cadre of leaders that may reflect the will of the grassroots but has the JDs to make them a little different. That is not to say that the movement is without an essential grassroots element: we will win the freedom to marry in 3 or 4 states in November because of the thousands of people on the ground in Washington, Minnesota, Maine, and Maryland, making phone calls, and telling their stories.
Therefore, we could conclude that the lessons of ACT UP are not immediately evident for the marriage movement. I disagree.
The fight against AIDS made its greatest strides when our community was united, not divided. Before ACT UP split off into factions, a story How to Survive tells well, it succeeded in moving mountains to get clinical trials and experimental medications on the market. Despite some setbacks, their unity delivered progress.
We have already learned that lesson. The disunity that is a notorious part of the conventional wisdom about the gay rights movement disappeared in the fight for marriage freedom in New York State and is nowhere to be found in Freedom to Marry's coordination with local groups in the four states with marriage on the ballot this year. Even in the Perry case, which is challenging California's ban on marriage freedom, what many in the gay media reported as discord was more mirage than anything else. And, besides, the American Foundation for Equal Rights and other mainline gay advocacy groups are on the same side in the fight to win the right to marry at the federal level.
The fight for lifesaving drugs encouraged ACT UP and its offshoots to work with pharmaceutical companies and other allies in the medical communities because they held the reins to a possible holy grail of treatment.
We have also learned that lesson. The 2008 failure in California was, in part, the product of too much insulation, too little work reaching out to different communities, and a bizarre insistence on divorcing marriage from love. Today, we have the freedom to marry in New York because we brought together a vast coalition of gay groups, business interests, religious houses, and other allies to show Albany that this was a human issue, not a gay issue. Our straight allies are the gateways to the moderate middle of America whom we must persuade in order to win.
Most notably, the 1980s version of ACT UP teaches us that hope springs from perseverance and involvement. In the face of so much death and fear, these gay men and women stood up when no one else would, challenging the world to pay attention to something it was willfully denying for years. They challenged Bill Clinton to think about AIDS and slowly, but surely won over countless members of Congress to their cause.
We have learned that lesson, too. The freedom to marry has to be fought, continuously and on all fronts. We need to bring various cases in the states, as Lambda Legal is, and as the ACLU, the Gay and Lesbian Advocates and Defenders, and Lambda are all doing regarding the Defense of Marriage Act. We need to win in the four states in November and we can help by making calls, donating money, and telling our personal stories.
The fight for marriage is such that it allows us to slow down, be respectful, and methodically change hearts and minds by living our lives and being good citizens. Those who lived through the AIDS crisis in Greenwich Village, in the Castro, and in West Hollywood did not have that luxury. We must appreciate the gravity of those times and be thankful so many of our loved ones survived. And, when we do win the freedom to marry — and we will win it — we should remember that without those who survived a plague in the late 1980s, we wouldn't be here to enjoy the still-fragile freedoms and growing acceptance we have earned today.
***
Ari Ezra Waldman teaches at Brooklyn Law School and is concurrently getting his PhD at Columbia University in New York City. He is a 2002 graduate of Harvard College and a 2005 graduate of Harvard Law School. His research focuses on technology, privacy, speech, and gay rights. Ari will be writing weekly posts on law and various LGBT issues. 
Follow Ari on Twitter at @ariezrawaldman.