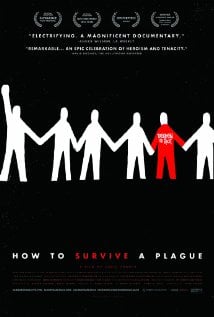 While we all stand in solidarity with those recovering from Hurricane Sandy, important things are happening elsewhere. For example, the San Francisco AIDS Foundation (SFAF), the country's largest AIDS services organization, is having a special screening of the powerful documentary, How to Survive a Plague, on Worlds AIDS Day, December 1, 2012.
If live in the San Francisco area, or plan to be there on December 1, hurry and get your tickets here.
Neil Giuliano — SFAF Chief Executive Officer; former mayor of Tempe, AZ; and author of the exceedingly popular memoir, The Campaign Within – called the film "powerful and important." A.O Scott of the New York Times called it a "moving and meticulous documentary about AIDS activism in the late '80s and early '90s." I was blown away by its raw emotion, technical precision, and relevance to today's battle for the freedom to marry:
It's a film worth seeing not only for its stark reminder of the sense of anger, despair, and urgency at the time, but as an inspiring story of unity, community, and love. No matter your age, your HIV-status, gender, or political involvement, How to Survive will make you cry; but the film's final scenes may be most rewarding few minutes you spend in a theatre this year. It is, after all, a story about hope, not death, life, not sorrow. It is the story of surviving the AIDS crisis. And, even as we mourn those vibrant young people AIDS took from us, we are so grateful that so many did survive and are, to this day, a part of us.
James Loduca, Vice President for Public Affairs at SFAF, adds: "December 1 is a time to remember, reflect and reengage in the fight against HIV/AIDS. I can think of no better way to do all three than by seeing the critically acclaimed How to Survive a Plague. This World AIDS Day, we are proud to be hosting a screening of David France's powerful film at the historic Castro Theatre. Spread the word!"
The official flier is AFTER THE JUMP.