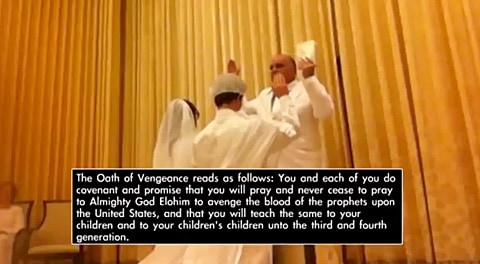 A hidden camera video purportedly shot inside a secret Mormon Temple ceremony and meant to expose some of the nutty traditions of Mitt Romney's religion appears to be going viral via Reddit.
Check it out, AFTER THE JUMP…

For the first time in the 170+ year history of secret Mormon temple activity, those activities have been captured on film with a hidden camera.
Watch with your own eyes the sworn oath, known as the "Law of Consecration," that US Presidential candidate Mitt Romney has raised his arm to the square and vowed to obey, an oath that requires faithful Mormons to consecrate 100% of their current AND FUTURE time, talents and everything they will ever be blessed with, to the Mormon church and its goal to achieve a worldwide theocracy headed by Mormons.
Check it out, AFTER THE JUMP…
In related news (via jmg), here's a truck sitting outside the site of tonight's presidential debate in Boca Raton: