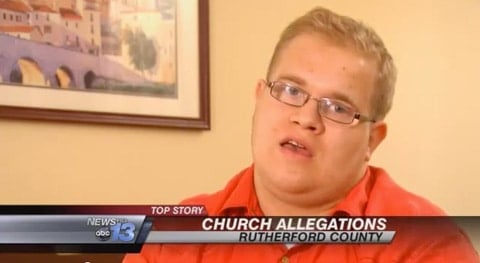 A 22-year-old NC man claims Word of Faith Fellowship Church, a nondenominational Christian congregation in Spindale, NC, held him against his will and assaulted him after finding out he was gay, the Charlotte Observer reports:
In a statement given to a sheriff's department investigator last week, Lowry said he was kept in a church building from Aug. 1 to Nov. 19, 2011. He said he was knocked unconscious during his first day of confinement.
Lowry's former pastor, Jane Whaley, said Sunday that all of his allegations are "lies." Whaley said Lowry was not held or beaten. She said the church only learned that he was gay when his family did – after watching a news report by an Asheville television station Thursday.
Lowry said he first told his family and church leaders of his sexual orientation when he was 15 or 16. That set off years of harassment and abuse, he said, as church members tried to expel the demon that they believed caused his homosexuality.
Watch an ABC News13 report, AFTER THE JUMP…