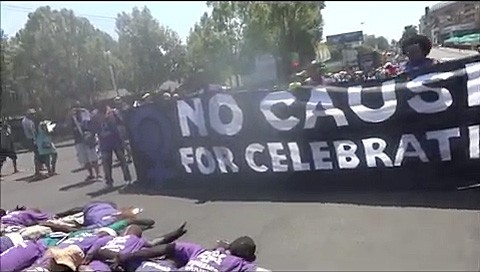 Clashes broke out at Johannesburg's Pride parade on Saturday when LGBT activists formed a blockade in protest of the depoliticized nature of the event, Mamba Online reports:
The group of activists, from the 1 in 9 campaign, ran out from behind the Goodman Gallery building and set up an impromptu blockade. A number of life-size dummies and activists were stretched out on the road, representing LGBT victims of hate crime, backed by banners that read "Dying For Justice" and "No Cause for Celebration".
Pride participants were confused by the protest and some appeared to be under the impression that it was being staged by an anti-gay group. Tempers flared as marshals insisted that the activists move out of the way.
When marshals attempted to divert the parade to the other side of the road, around the protest, the activists moved to again block the parade from proceeding. This angered both participants and marshals who attempted to pull down the banners stretched across the avenue.
Scuffles erupted amid shouts of the parade being an "elitist" and "depoliticised" event. Both Joburg Pride organisers and 1 in 9 have accused the other of reacting with violence and abusive behaviour.
Watch a clip, AFTER THE JUMP…