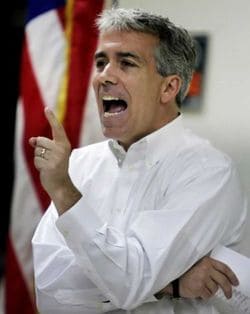 Illinois Congressman Joe Walsh was elected to the U.S. House of Representatives during the 2010 Tea Party surge, and since then he has become a unswerving conservative, offering the most outlandish of right-wing rhetoric possible, like when he suggested using an alligator-filled moat to end illegal immigration.
He also uses his brand of hyperbolic politics to denounce LGBT equality and rights and recently suggested that children raised by same-sex couples are more likely to be impoverished drug addicts.
But things were different in 1996. The Windy City Times today published remarks Walsh made during his failed 1996 campaign to unseat progressive incumbent Rep. Sidney Yates. Walsh at the time had an 89% on HRC's congressional rating system, which is good.
In one interview, Walsh described himself as the most gay-friendly GOP politico around. "If there's a more gay-friendly Republican around, I'd like to meet them," he said.
And a report from journalists Trudy Ring and Shamara Riley outlined Walsh's once gay-friendly, pro-choice and pro-government platform:
Walsh also has indicated he would support gay rights, but [progressive rival Yates has taken a leading role on the issue for many years. … Walsh, endorsed by Log Cabin, said he would support ENDA and other federal gay-rights legislation, and would be willing to co-sponsor it. Like Yates, he opposes restrictions on gays in the military.

He supports maintaining current federal funding for AIDS-related programs and would favor an increase 'depending on how much money there is to go around for other diseases'; believes the federal government should 'lead an education offensive' to fight AIDS; favors reforming Medicaid but supports maintaining mandatory coverage for people with HIV/AIDS. He is undecided on same-sex marriage. He supports abortion rights in the first trimester; opposes federal funding of abortions; and supports increasing federal funds for research on breast cancer. He is undecided about federal affirmative action programs.
All of these points have been stripped from Walsh's current political platform. For example, he voted against ENDA, is a zealous pro-life warrior in Washington and Walsh, currently running for reelection against Democratic Iraq War veteran Tammy Duckworth, has an HRC ranking of zero.