How much more will American taxpayers have to pay to defend anti-gay discrimination?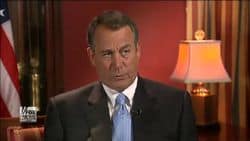 On Tuesday, Democrats on the Committee on House Administration made public a report stating the House Bipartisan Legal Advisory Group — which took up defense of DOMA after the Obama administration announced it would no longer defend the law in court — has reached expenses totaling out to $1,447,996.73 over the course of fiscal years 2011 and 2012.
That's just shy of the $1.5 million cost cap that House Republicans set last year to pay private attorney Paul Clement, a former U.S. solicitor general under the Bush administration, to defend DOMA. Thus far, Clement has lost in five federal courts against lawsuits challenging the constitutionality of DOMA — most notably after U.S. First Circuit Court of Appeals became the first appellate court to strike down the law.
Still, they lose case after case.