Ukrainian lawmakers have advanced a law that would ban "gay propaganda" similar to the one passed earlier this year in St. Petersburg, Russia, RIA Novosti reports: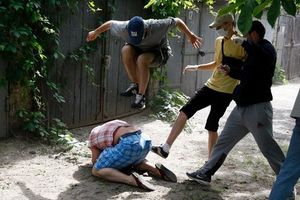 The draft law, approved by 289 out of 350 lawmakers at a parliament session on Tuesday, envisions amendments to several existing laws which would impose prison terms of up to five years and hefty fines for spreading the "propaganda of homosexuality."
The bill's authors claim "gay propaganda" could lead to a worsening of Ukraine's HIV/AIDS epidemic and destroy the traditional family institution, causing a demographic crisis in the country.
"By promoting the extreme forms of sexual frivolity, the Ukrainian media is creating the conditions for the spread of the AIDS epidemic in Ukraine," an explanatory note accompanying the bill says.
"In order to prevent this dangerous process, it is necessary to introduce legislation banning the propaganda of homosexuality by the Ukrainian media," the note says.
A second vote is expected on October 16, after which it could become law.
Image: a Ukrainian gay rights activist is beaten as the media looks on, in May 2012.