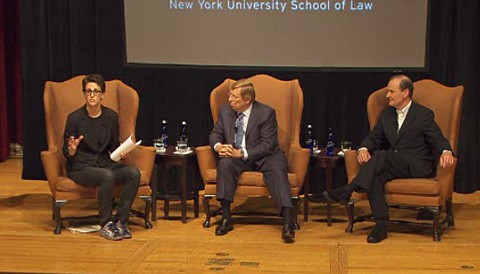 As part of a Law and Social Change symposium, Rachel Maddow sat down to interview Prop 8 litigators Ted Olson and David Boies at NYU Law School on Friday.
NYU reports:
Olson and Boies said they would aim for a unanimous decision, but they acknowledge that in a realistic worst-case scenario, the Supreme Court may deny same-sex marriage as a constitutional right and rule that states must decide the issue. In conclusion, said Boies, we all have a lot of work to do to undo the "pain and evil" of this discrimination against gays and lesbians.
"I love talking to old, straight white guys about this issue," quipped Maddow.
Watch the interview, AFTER THE JUMP…
Visit NBCNews.com for breaking news, world news, and news about the economy