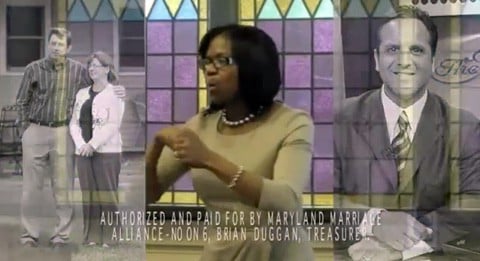 Angela McCaskill, the Gallaudet University associate provost of diversity and inclusion who was recently placed on leave after it was revealed that she signed a petition to put Maryland's marriage equality law on the ballot (Question 6), is featured in a new ad from the anti-gay Maryland Marriage Alliance opposing Question 6.
The ad seeks to show that people who speak out against same-sex marriage are bullied, oppressed, and punished.
"We're ALL at risk under Question 6," the ad claims.
Check it out, AFTER THE JUMP…
In related news, McCaskill plans to seek compensation for "emotional distress" endured after being put on administrative leave: "'I am dismayed that Gallaudet University is still a university of intolerance, a university that manages by intimidation, a university that allows bullying among faculty, staff and students,' McCaskill said at a press conference in Annapolis on Tuesday afternoon…"