Saint Paul and Minneapolis Archbishop John Nienstedt, the guy who spearheaded a mass mailing in 2010 of 400,000 anti-gay DVDs, and created a special "marriage prayer" which he asked the state's Catholics to recite during Mass in an effort to create support for the anti-gay amendment on Minnesota's ballot in November, also told the mother of a gay son that she should reject him or risk burning in hell, according to a recently-surfaced letter.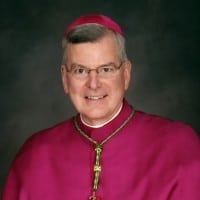 Wrote Nienstedt:
I write to inform you that the teaching of the Catholic Church on homosexuality,a s described in paragraphs 2357 and 2358 and 2359  of the Catechism of the Catholic Church is rooted in Scripture and based on the Natural Moral Law. It, therefore, shares in God's revelation to us. Catholics are bound in conscience to believe this teaching. Those who do not cannot consider themselves to be Catholic and ought not to participate in the sacramental life of the Church.
Indeed, some might find this is a hard saying by many of Jesus' teachings were likewise received as such. I urge you to reconsider the position that you expressed in your letter. Your eternal salvation may well depend upon a conversation of heart on this topic.