Jerry Sandusky gets 30-60 years in prison for child sex abuse.

Battle to oust Iowa Supreme Court Justice David Wiggins in Iowa seen as barometer on marriage equality: "The race is being watched not only as barometer of the public's changing attitude toward gay marriage but as a message for judges who might take up similar cases in the future."

100 million-year-old spider attack found in amber. "This was a male wasp that suddenly found itself trapped in a spider web. This was the wasp's worst nightmare, and it never ended. The wasp was watching the spider just as it was about to be attacked, when tree resin flowed over and captured both of them."

VIDEO: Nun caught on camera shoplifting Four Loko.

Openly gay L.A. City Councilman Bill Rosendahl won't run for reelection: "The
67-year-old will use the time to battle stage four cancer that started
in the ureter, the tube that connects the bladder and the kidney. His
condition caused tumors to grow on his spine."

Britney Spears films "top secret" video.

Paul Ryan trash-talks Joe Biden before debate:
"If Mitt told me I'd have to spend three days with Joe Biden… No
way." Ryan said at a Pontiac, Mich. fundraiser Monday afternoon. "It's
only 90 minutes. So thank you…"

Chris Hemsworth bearded and seductive for Prestige.

Tom Daley back in a Speedo.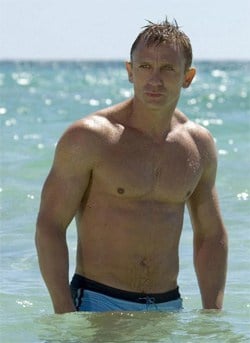 Daniel Craig's famous Bond swim trunks sell for $72,000 at auction.

Florida man dies shortly after winning roach eating contest:
"Investigators reported that Archbold 'wasn't feeling well and began to
regurgitate' shortly after the contest's conclusion. 'He had consumed
dozens of roaches and worms,' a sheriff's spokesman noted."

Frank Bruni on marriage equality and dignity.

Spectacular comet headed by Earth: "Viewers in the Northern Hemisphere will get the best view as the comet blooms in the weeks approaching Christmas 2013. The comet could grow as bright as the full moon."

Depeche Mode plans an "exciting announcement".

Romney's foreign policy speech at the Virginia Military Institute may have been his most dishonest ever: "It
was expected that he would distort President Obama into a caricature of
Jimmy Carter. But it was astonishing to watch Romney spin a daydream of
himself as some latter-day George Marshall, bringing peace, prosperity,
and hope to a chaotic world—this from a man who couldn't drop in on the
London Olympics without alienating our closest ally and turning himself
into a transcontinental laughingstock. To the extent that Romney
recited valid criticisms of Obama's policies, he offered no
alternatives. To the extent he spelled out specific steps he would take
to deal with one problem or another, he merely recited actions that
Obama has already taken."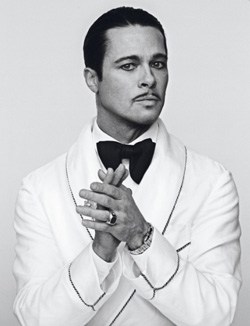 Brad Pitt shapeshifts for Steven Klein and Interview magazine.


New Hitchcock poster, first look.

Skyfall trailer adds Adele's Bond theme.

Gay protesters to picket Romney, New Jersey Gov. Chris Christie and Mayor Don Robart, in Cuyahoga Falls, Ohio: "Shane May, of Akron, organized the protest via social media and said he's expecting protestors from local gay rights groups, like GetEqual of Ohio, to join him on the picket line for various reasons."

Obama tells supporters to be "obsessive" about election: "Most of you have contributed to the campaign, but there is more that you can do over the next 29 days," Obama said. "There's a phone call you can make. There's an e-mail you can send. There is a trip into Nevada you can do to knock on doors. There are cousins and uncles and friends in battleground states all across the country."