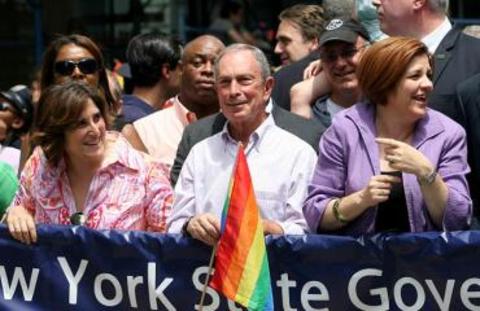 New York City Mayor Mike Bloomberg today announced the formation of a new super PAC, Independence USA PAC, through which he's prepared to spend up to $15 million between now and election day on campaigns large and small. He will support local, congressional and state candidates from any party, he says, but they must support three things: marriage equality, stricter gun laws and education reform.
One anonymous Bloomberg official said, "This spending sends a clear message that the mayor intends to keep his wallet open after he leaves office to influence national policy around issues like guns, education and marriage equality." And according to the New York Times, Bloomberg's already supporting a number of candidates.
Among those whom Mr. Bloomberg will support are former Gov. Angus King, an independent running for the United States Senate in Maine; State Senator Gloria Negrete McLeod, who is challenging a fellow Democrat, Representative Joe Baca of California, who the mayor believes has been weak on gun-control; and Representative Bob Dold, a Republican from Illinois who has backed gun-control measures.
Bloomberg is also looking into candidates in California, Louisiana, and is "likely" to support the Washington and Maine gay marriage ballot battles, according to the paper.