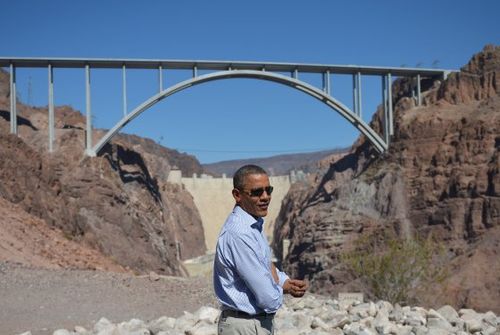 Obama and Romney have both been hunkered down prepping for tonight's debate while their campaigns seek to lower expectations, but two photo-ops have come out of the last 24 hours. Obama took a trip to the Hoover Dam while Romney paid a visit to a Chipotle in Denver (below).
After reportedly spending the first day of intensive debate prep watching football and visiting volunteers on Monday, on Tuesday Obama took an impromptu trip to the Hoover Dam. "The power generated here, where's it going?" Obama asked, just to emphasize that he had nothing better to do. "How long did it take to build it?" If Romney is smart, he'll turn his photo op at Chipotle into a dramatic triumph over food poisoning.
Romney's photobomber is speaking out:
"It's a facial expression I do when I'm excited," Marty Arps, 20, told the Daily yesterday just hours after the photo was taken. "I [did that] when I met Nicki Minaj. It's like, 'Ah, it's them, right there in front of you!' They're not from another world.'"
Meanwhile, Conan O'Brien really lowered expectations for the debate in a new video.
Watch it, AFTER THE JUMP…