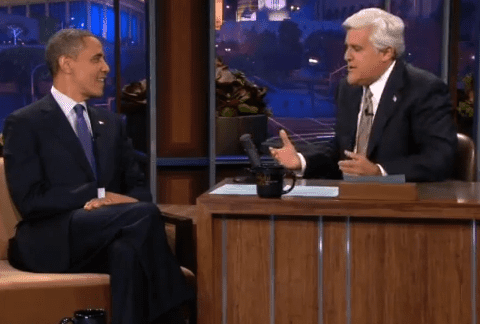 President Obama touched on a whole slew of topics during his appearance on NBC's Tonight Show last night.
The commander-in-chief talked Halloween, the debates and test-driving a pal's Chevy Volt. He also poked fun at Donald Trump's offer to donate $5 million to a charity of Obama's choice if the president would unveil his college transcripts and passport application, another volley in Trump's publicity campaign to "prove" Obama is foreign.
"This all goes back to when we grew up together in Kenya," the president laughed. "We had constant run-ins on the soccer field. He wasn't very good and resented it. When we finally moved to America I thought it would be over."
The biggest headlines out of last night however are Obama's comments about Richard Mourdock, the Romney-backed Indiana Senate candidate who pulled a Todd Akin by saying that rape is "something God intended" and victims should keep potential babies produced by said crime.
Obama of course disagrees:
I don't know how these guys come up with these ideas. Let me make a very simple proposition: rape is rape. It is a crime. These various distinctions about rape don't make any sense to me. This is exactly why you don't want a bunch of politicians, mostly male, make decisions about women's heath issues.
Watch Obama's comments about Mourdock and Trump as well as the NBC-provided footage of Jay Leno's entire interview with President Obama AFTER THE JUMP.